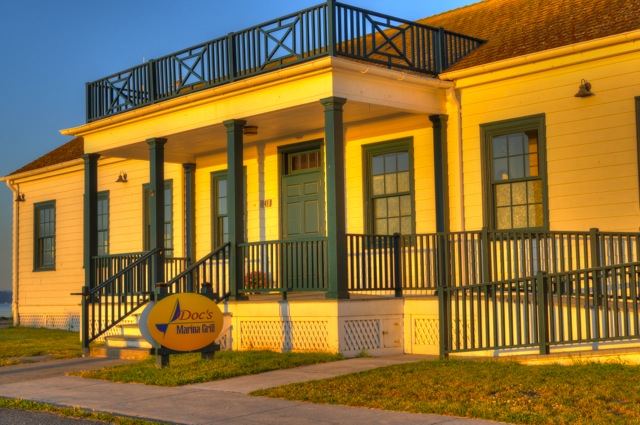 Doc's Marina Grill's Port Townsend History
Port Townsend's Bartlett House
Once speculated to become the largest harbor on the United States' West Coast, Port Townsend is also sometimes referred to as the "city of dreams." Around the end of the 19th century, Port Townsend became an active and well-known seaport, characterized by rapid development to support the flood of citizens banking on a bright future. Port Townsend restaurants served simple yet exquisite food to the diverse population, including menus stocked with fresh ocean fish.
---
Port Townsend's Decline
But when the Northern Pacific Railroad did not connect the budding city to the city of Tacoma in the 1890s, the area's population began to decline sharply. Port Townsend restaurants soldiered on, serving workers at the artillery fortifications developed at Fort Worden, and a paper mill opened on the edge of town in the 1920s. While the economy held on by a thread, the future of Port Townsend restaurants seemed grim.
---
A Resurgence in Port Townsend
The 1970s was a period of renaissance for Port Townsend as new residents, including retirees, relocated to the quiet port known for rich cultural festivals every year, 19th-century Victorian architecture, and maritime industries and crafts. The Port Townsend Historic District was declared a National Historic Landmark in 1977. Today, the Port Townsend paper mill is still Jefferson County's most sizable single employer.
---
Port Townsend is a favorite destination for vacationers in the Pacific Northwest. Not only are Port Townsend restaurants like Doc's Marina Grill among the best seafood establishments in Washington, but most of the buildings built during the area's initial boom remain intact. Now, Doc's is part of the area's long history.
---
Doc's Marina Grill and Historical Port Townsend Restaurants
Doc's proudly opened our second location in June 2012, bringing to Port Townsend our tradition of great service and food in a fun environment. We are the second of Port Townsend restaurants to inhabit this beautiful location on Point Hudson. T's Restaurant, a fine dining establishment, operated for two years at this location.
---
The original use of our Doc's Port Townsend location was to house the nurses for the military. Once the military vacated Point Hudson, it became the showers for the Point Hudson Marina. It sat vacant for many years until T's Restaurant decided to sculpt it into one of the Port Townsend restaurants that now characterize the area. Can you imagine the sorority feeling the place must have had back in the 1940s when the nurses lived there? Quite the digs!